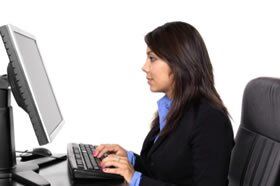 During 2007 Healthywork Ltd conducted in excess of 350 Ergonomic Assessments. An audit has been conducted to establish what the most common recommendations have been.
An Audit of 50 random cases was conducted during 2008 by reviewing the assessment reports.
Findings:
42% were found to be sitting too low to the desk and the work tasks they were performing. The chairs were raised to the correct height, depending on the gas stem height adjustability of the chairs.
20% had no arm rests on their office chair. For 22% the arm rests were too far apart for their build and another 20% were not using their arm rests, as they were incorrectly positioned. Therefore 62% were not gaining necessary forearm support from chair arm rests.
For 18% the lumbar support was not at the correct height. Another 8% did not have lumbar support available on their chair.
90% of the individuals required an alternative model chair and of those 32% required a more specialist chair than their own chair supplier could provide. The chair supplier in use was already providing a range of chairs with the option of extra independent movement including seat tilt, height adjustable and tilting inwards arm rests, seat slide for longer legs, neck support option, a wide range of lumbar height options including lumber pump and tension wheel adjustability.
26% needed their monitor screen raising to the correct height, once they were sitting at the correct sitting height to the desk.
44% needed to move their keyboard and mouse closer so that they were sitting and working in a better posture.
76% required a sliding writing and reading work surface which could be moved over the keyboard so that all of the work tasks were at the correct height and directly in front of them.
20% of the cases were a follow up assessment, after having had an initial assessment. Therefore equipment had been provided and the follow up was to ensure they were set up correctly and review progress.
The following comments made by the individuals at follow up were noted:
'symptoms improved'. x2
'not constant (symptoms) now'.
'feeling better'.
'neck better'.
'no shooting pains now'.
'better'.
'more comfortable'.