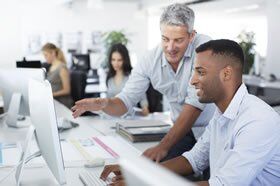 A DSE Assessment (Display Screen Equipment) risk Assessment (sometimes known as Workstation assessment) is required in order to fulfil Health and Safety Executive (HSE) Display Screen Equipment Regulations 1992/2002 and prevent ill health. Sometimes a basic level tick list check has been completed (and all items are ticked!), but individuals may continue to be uncomfortable, experiencing occasional back ache, wrist ache etc. Sometimes a wrist rest or a mouse rest has been purchased  – but this can make the symptoms worse!
The Healthywork DSE Assessment includes the basics and also 'best practice' ergonomic advice which means that we provide extra information which will ensure that individuals understand how they should be positioned for their body dimensions. This will help them to be more comfortable and prevent ill health and the need for costly specialist equipment or time off sick.
How a DSE Assessment works
We spend 20-30 minutes with each employee individually, within the office work location.
We will use the Healthywork Workstation and DSE Risk Assessment Score Sheet to check the workstation with each individual user. The score will help indicate what areas need further attention, within a suggested time scale.
We will check all parts of the workstation – including the desk, chair, monitor screen, keyboard, mouse, phone use and paperwork layout, and also environmental factors.
Improvements/solutions that can be implemented immediately will be made.
A written summary on each individual workstation user assessed will be produced within a report within 48 hours (where possible) of the assessment, with an assessment score and recommendations for each. General equipment recommendations and purchase information will be detailed in the report.
If a medical condition requiring a more detailed assessment is identified, a more detailed Ergonomic Workstation Assessment will be recommended within the written report, or additional assessment time can be added on at the time if preferred.
(We can also offer these assessments as group Ergonomics Training sessions and the individuals then complete the Healthywork DSE Assessment form themselves, as a more economical option, when there are larger numbers of employees).
Benefits
Reduces the cost of sickness absence, Occupational Health Services, Insurance and possible litigation.
Increase comfort and awareness of health, maximising the work environment and worker productivity.
Gain valuable insight into 'best practice' in the workplace.
Achieves employer duties under the Display Screen Equipment Regulations 1992/2002.
Suitability
This assessment is suitable for an employee who is experiencing no symptoms or only mild intermittent symptoms.
This assessment is classed as a risk assessment.
Can help prevent ill health in employees.
See our Useful Links page which includes diagnosis specific advice from organisations which can help.
Find out more about our other Occupational Health Services or Contact Us.