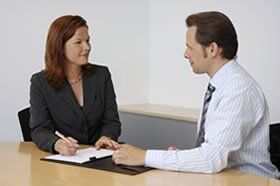 A Vocational Rehabilitation Return To Work programme will enable your company to manage Sickness Absence. Easing your employee back into the workplace safely can only be financially beneficial to your business.
We can design vocational rehabilitation and return to work programmes to suit your company, to re-introduce and develop tolerance to work tasks, thus aiding a speedy return to the workplace. This may be delivered as part of another assessment, such as an Ergonomic Workstation Assessment or a Functional Capacity Evaluation.
How a Vocational Rehabilitation Return To Work Programme Works
The advice may include designing a programme of work tasks for an employee, to strengthen and increase stamina and to help them get back into the work routine.
The return-to-work schedule of hours is negotiated, and advice is given on how to gradually increase the working hours over several weeks.
The therapist can attend meetings to ensure a smooth process of return-to-work and aid communication between all involved parties, if required.
Following return-to-work, to provide regular monitoring of the employee in the workplace, and support of both the employee and employer through the process.
Benefits
Speeds up the return-to-work process and reduces costs.
Improves communication and co-ordination of approach.
Monitors, supports and guides the return-to-work process.
Identifies, tackles and solves barriers in the return-to-work process.
Achieve 'reasonable adjustments' under the Equality Act 2010 (replaced the DDA 1995).
Suitability
This input is often required when an individual worker has been on longer-term sick leave (more than 2 weeks), and may follow on from a Functional Capacity Assessment or Ergonomic Assessment.
See our Useful Links page which includes diagnosis specific advice from organisations which can help.
Find out more about our other Occupational Health Services or Contact Us.