Surviving or Thriving?
One in four adults and one in ten children are likely to have a mental health problem in any given year. This can have a profound impact on the lives of tens of millions of people in the UK, and can affect their ability to sustain relationships, work, or just get through the day.
But an ill-informed and damaging attitude among some people exists around mental health that can make it difficult for some to seek help. It is estimated that only about a quarter of people with a mental health problem in the UK receive ongoing treatment, leaving the majority of people grappling with mental health issues on their own, seeking help or information, and dependent on the informal support of family, friends or colleagues.
And This Week is Mental Health Awareness Week May 8-14th 2017, hosted by The Mental Health Foundation #MHAW17
The Theme is: Surviving or Thriving?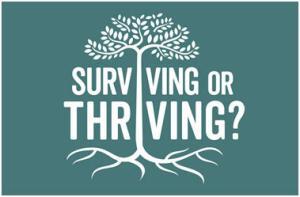 For campaign surveys, research, resource material and advice go to:
https://www.mentalhealth.org.uk/campaigns/mental-health-awareness-week
Also there is The Lord Mayor's Appeal, piloting The Green Ribbon Campaign to help #endthestigma of mental health.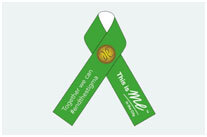 Meanwhile, at the Health and Wellbeing @ Work Event this year there was even more focus on mental resilience and training in mental wellness for workplaces. The main points were ensuring the culture of openness on this subject is led and supported from the top, by Senior Management and CEO's.
The main words to remember were TRAINING & SUPPORT!
Line Managers need training and support, and the individual's needs training and support, to ensure resilience and wellness is at its maximum and also in the event of mental ill health that all are ready and supported, whatever role they play in the circumstances. Eg see the Line Managers resource pack: http://www.hse.gov.uk/stress/pdfs/manage-mental-health.pdf
Mental Health First Aid training was also priority and is available for all organisations, see:
https://mhfaengland.org/ and their take 10 toolkit: https://mhfaengland.org/take-10-together-toolkit/
Also see the 'Time to change' http://www.time-to-change.org.uk/ pledge to end mental health discrimination. You can also use their downloadable materials to spread the word, raise awareness and reduce stigma: https://timetochange.brandstencil.com/
Other awareness events:
National Time to Talk Day, is always the first Thursday in February, hosted by Time To Change, led by Mind and Rethink Mental Illness. https://www.time-to-change.org.uk/about-us/about-our-campaign/time-to-talk
It's a day that brings the nation together to get talking and break the silence around mental health problems.
Mental health problems affect one in four of us yet people are still afraid to talk about it. For people with mental health problems not being able to talk about it can be one of the worst parts of the illness. So by getting people talking about mental health we can break down stereotypes, improve relationships, aid recovery and take the stigma out of something that affects us all.
Since Time to Talk Day first launched in 2014, it has sparked millions of conversations in schools, homes, workplaces, in the media and online.
World Mental Health Day, hosted by the World Federation of Mental Health, is on 10 October each year.
Recently, April there was World Health Day, which focussed on Depression, see: http://www.who.int/campaigns/world-health-day/2017/en/
Here at Healthywork, Alison Biggs , registered Occupational Therapist, offers a Mental Health Assessment, in order to assess the employee's ability to perform their work role and suggest reasonable adjustments which can help. The mental health assessment is also accompanied by a screening of other (eg physical) health needs. Find out more about this and other services on offer at: https://healthywork.org.uk/occupational-health-services/mental-health-assessment/
Alison Biggs
The Mental Health of our workforce – Mental Health Awareness week