Are meeting chairs ergonomic and comfortable?
Despite there being 650 MPs, the House of Commons chamber has only 427 seats – meaning there is often standing room only on big days, such as the Budget.
MPs have to roll up at 8am, and place a "prayer card" in the place they would like to sit. They then have to be in the chamber at the start of that day's sitting, for prayers
But what are the chairs like? how comfortable are they and how suitable for individuals.
Meeting room fixed chairs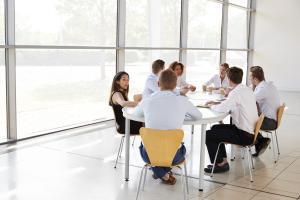 Meeting room chairs and conference chairs are often fixed seating, with few or no adjustments available, so let us review the seats in parliament, or of any fixed or four legged chair that you may use…
Healthywork provide Ergonomic Assessments to review the seating you use – Send a message via our Contact Form today.
Problems and Solutions of fixed chairs and Seating
Seat feature

Issues
Solutions
Seat height:

Fixed, so it may be too low (knees higher than hips)

and/or

Too low for the arms to be at the correct height for keyboarding on the table

and /or

Too high (feet cannot touch floor).

Sit on a cushion if the seat is too low, so the seat and hips are higher until the hip to knee is horizontal or the knee is slightly lower than the hip.

Also for the elbows to be horizontal to the keyboard, if mobile device use is required.

Any cushion from home or a wedge cushion (thick end of wedge at the rear of the seat) can help to achieve this.

Use a book/bag/box/small footrest under the feet if the seat is too high for the feet to touch the floor.

Seat depth:

Fixed depth – so it may be too short or too long for individual's upper leg length. If the seat touches the back of the knee, it can lead to pins and needles in the legs, if the circulation is affected.

(The seat should be as long as possible, with only a small 2-3 finger gap behind the knee).

It is difficult to add any depth to the seat, if it is too short,

but if it is too deep, use a cushion behind, to shorten the seat depth, such as a back rest cushion or even a cushion from home could help.

Seat or back rest fixed and no movement options:

Fixed, a slight reclined angle of back rest or seat may be present, but no back or seat pad movement.

A slightly reclined backrest angle is better than upright, as this can ease the hip to back angle a little. Movement is more ideal when seated for some time, so use of a gel type cushion eg Sitfit gel cushion, to achieve some movement may help or trial a rocking type of cushion eg Back Joy on a hard chair.

Seat angle:
Slightly lower at the rear? (this may not ease hip or low back pain…)

Use a wedge cushion to reduce any backward tilt of the seat or use a wedge to achieve some forward tilt on the seat as this can be more comfortable for low back and hip pain.

Arm rests often not present or fixed in height:
Could be less comfortable for those with neck, shoulder or arm issues.
Small cushions or folding up items of clothing can temporarily provide some arm rest support and ease the lack of suitable arm support.

Mainly keeping the elbow under the shoulder should allow the arm and shoulder to be is its most rested position possible. Ensure sitting at the correct height to the table, depending on the task being performed. Handwriting notes, sit lower than the table, and angle the paperwork towards you.

Laptop use, Sit so that the elbow is horizontal with the keyboard (raise the laptop screen using a Laptop/tablet riser and use a separate keyboard and mouse.

Upper back and neck support

None usually available
If there is no upper back support, this may be an issue for some, so try to ensure whatever back support is being used, (fully lean against it) and ensure the head it upright upon the shoulders and not bent forwards, to reduce neck strain as much as possible. A small cushion in the upper back area may be possible to provide some support.

Back rest small or non-supportive, lacking lumbar support

None built into the low back area of the seat and there may be only a small narrow piece of back rest to lean against.
To widen the area of support for the back, consider a Backfriend cushion or Posture curve cushion.

If there is a sufficient sized back rest but lacking specific lumbar support in the low back region, use of a small lumbar 'D' shaped roll, such as a slimline model may be sufficient, if the seats have firm support (so only a small amount of lumbar support is likely to be required, also a smaller cushion to ensure the seat depth is maximised).

Seat comfort
Wooden or firm seating may not be very comfortable.
If you experience coccyx pain or pain in other areas of the bottom or hips/upper legs, a seat cushion with a coccyx cut out, or central cut out can also ease discomfort. This cushion could be wedge shaped or more of a flat style cushion, with memory foam used for added comfort.
Whatever seating you use, always consider the above aspects in order to decide what solutions may help you to be more comfortable!
If possible bring an Ergonomic office chair with suitable support for your needs to the meeting room, especially for long meetings and conference situations.
Inform others and plan ahead, as you may need to stand up and/or take breaks during meetings to vary your posture and pace yourself to achieve more comfort.
Healthywork can assist if an Ergonomic Assessment is required, along with mobile working solutions to ensure the individual's seating, posture and task performance is suitable for prevention and for specific health needs.
Healthywork provide Ergonomic Assessments to review the seating you use – Send a message via our Contact Form today.
Find out more about these and other services on offer at: https://healthywork.org.uk/occupational-health-services/
Ergonomic Assessments London and Surrounding Areas
Central London, Greater London including Harrow, Barnet, Bromley, Ilford, Romford, Ealing, Enfield, Hampstead, Chiswick, Uxbridge, Hounslow, Croydon, Sutton, Kingston and other areas such as Slough, Bracknell, Woking, Chelmsford, Watford, Luton, Hemel Hempstead and St Albans.
DSE Assessments East and West Midlands Areas
We cover the East Midlands regions including Birmingham, Warwick, Northampton, Leicester, Rutland, Lincoln and Nottingham, Ashford, Dorking,  Berkshire, Oxford, Bedford, Milton Keynes, Chelmsford, Colchester, Oxford and Cambridge.
DSE Assessments UK Nationwide
Our services encompass all areas throughout the UK including Scotland and Wales, additionally Northern areas such as Yorkshire, Leeds, Liverpool, Manchester and the surrounding regions.
DISCLAIMER: THIS WEBSITE DOES NOT PROVIDE MEDICAL ADVICE
The information, including but not limited to, text, graphics, images and other material contained on this website are for informational purposes only and is not to be used or relied on for any diagnostic or treatment purposes. The purpose of this website is to promote broad consumer understanding and knowledge of various health topics. This information is not intended to be patient education, does not create any patient-physician relationship, and it is not intended to be a substitute for professional medical advice, diagnosis or treatment. Always seek the advice of your physician or other qualified health care provider with any questions you may have regarding a medical condition or treatment and before undertaking a new health care regime, and never disregard professional medical advice or delay in seeking it because of something you have read on this website.
Healthywork Ltd does not recommend or endorse any specific tests, physicians, products, procedures, opinions or other information that may be mentioned on this website. Reliance on any information appearing on this website is solely at your own risk.
Solve Back Problems in Uncomfortable Chairs