This article details the main product factors to consider when choose new office seating. Firstly, it is most ideal to have as fully adjustable seating as possible to suit as many of the individual needs as possible.
1. Seat Slide
Seat slide is a good option to have for different upper leg/thigh lengths/bottom sizes. Some chairs allow up to 10cm depth adjustment.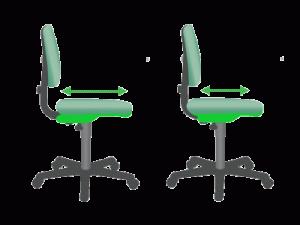 2. Height adjustable arm rests
Height adjustable arm rests are beneficial, as long as the arm rests are not too far forwards (but useful if the user is of larger build) otherwise the arm rests can interfere with close sitting at the desk edge, especially if a curved desk.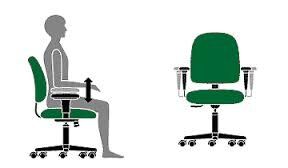 Sometimes having a range of chair models with different seat pad widths can help suit different users builds, but if the arm rest pads can tilt inwards at the front, over the seat pad, this can overcome seat pad width issues when the armrest distance apart is too broad for small build individuals, but very small build individuals may still not be accommodated in this way. Arm rests with adjustable brackets to move the arm post closer of further from the seat pad are also available to suit different builds, including larger builds.
3. Movement mechanism
The movement mechanism in the chair, which allows some variety of posture during use and thus prevents static posture, could be one of the following:
Synchro mechanism tilts the back rest and seat pad backwards (up at the front), together often on a ratio of 2:1.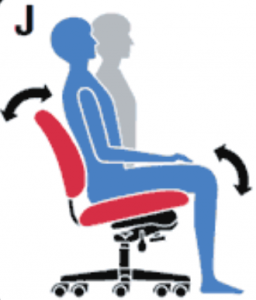 Often contract standard office seating has this mechanism. This may be problematic to those with low back pain, where more opening the hip angle to back angle is preferred and due to the knee being above the hip when reclining.
Therefore an Asynchro or Independent mechanism could be more preferable a mechanism to some, so that the seat pad can stay level/horizontal and just the back rest moves, or have a forward seat tilt lever (knee lower than hip) and a back rest lever to recline the back rest, which operate independently. This can help individuals with low back pain and other discomfort, such as hip pain.
Knee below hip: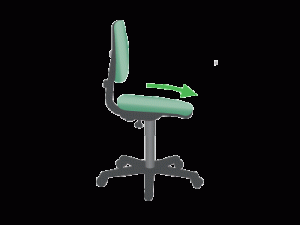 The mechanism considered to be 'better' on the market, is a 'free float', sometimes a knee tilt mechanism where open angles can be achieved with the seat and the back rest to be altered in angle but still being in some form of connectivity, to also allow independent movement and 'free float' or rocking together during use. Extra levers on the chair often allow these extra movements. This can help individuals with low back pain and hip pain.
Chair manufacturers describe the movement mechanisms using a variety of terms and so the detail above is what I have gleaned from working in this field, therefore more detail of individual model and seating ranges and their available mechanisms should be obtained from the manufacturer of any chairs you choose to consider, bearing in mind the principles detailed above.
4. Tensioner
On all chairs it is beneficial to have a tension wheel (+ and -) to adjust the movement resistance to make the movement more comfortable, (not too loose to gain no support from the back rest during its movement and not too stiff to cause the back to have to 'work' to gain any back rest movement).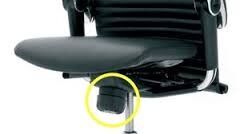 Chairs which do not have a tension wheel are not generally designed to have the chair left in an unlocked mode during use, rather to adjust the angle and re-lock, but this can contribute to static postures and discomfort, as movement during chair use is generally considered beneficial for most individuals.
5. Lumber Support
The lumbar support range is designed to suit a range of lumbar heights (with back rest height adjustment usually), but sometimes this may not be suitable if an individual requires a very high lumbar (30cm) or prefers very low support (15cm) which sometimes is more pelvic area support preferred than the traditional lumbar support. They would require an alternative chair model in most cases, unless a supplier is able to offer a range of lumbar heights on different chairs in the range. Adjustable lumbar depth pump (air filled pump option or other methods) is good to have on chairs so that individuals can vary the amount of lumbar support.
6. Gas Stem range
The gas stem range is also important to allow individual to raise the chair sufficiently to the fixed desk height, so that their elbows are horizontal with the keys. Often a gas stem up to 55 or 57cm high sitting height is required, however, some suppliers can accommodate higher ranges and the chair still be fully adjustable.
7. Castor type
Wheel castors to suit the flooring also need to be specified. Hard castors for a carpet, and soft castors for a hard floor, to stop it from rolling away and being dangerour to get on/off safely. 'Glides' on chairs are often problematic, as once seated on the chair it cannot be moved closer to the work surface.
There are other seating options which may be required for more specialist individual circumstances, which would need to be assessed in more detail, such as during an Ergonomic Assessment.
Article by Alison Biggs
Office chair features. Factors to consider?