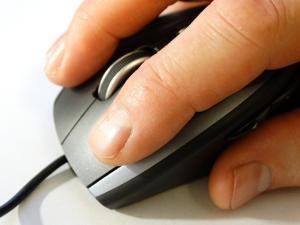 Are you experiencing discomfort or pain using your mouse?
(Discomfort can also be experienced due to the keyboard use and the posture you adopt on the office chair).
Review the following mouse tips to see if you can resolve any issues you are experiencing.
Ensure the surface on which the mouse is used is suitable for it to respond easily.
Ensure the mouse is positioned at the same height as your forearm, ie if you have raised your chair, to suit your keyboard height, (see Sitting on an Office Chair: 7 top tips) the mouse also needs to suit the same height, so your arm use for all tasks is horizontal. Therefore a mouse mat or two may be required.
Ensure that the mouse is close to you, so that your elbow remains under your shoulder during use (sometimes a mini keyboard size is a consideration to allow the mouse to be even closer).
Ensure you have an up-to-date, fully functioning mouse, that has optical (red light) operation, rather than a ball that gets sticky and dirty. Many people use the standard type of mouse, which is generally symmetrical in shape (so it can suit left or right handed user) and has a central scroll wheel and left and right click buttons on each side of the scroll (left handed users can swap over the button use on the control panel). If mouse use becomes uncomfortable consider initially if your sitting posture and arm posture is correct before buying equipment such as mouse rests, alternative mice etc
A mouse rest should only be used during breaks from mousing! Be aware that the mouse rest is not restricting access to the mouse. The arm, and particularly the wrist should be free to move and be unrestricted during use.
Try to not grip the mouse too tightly.
Increase the number of lines per scroll and increase the speed of the mouse motion so less arm movement across the desk is required to get across the screen (mouse settings are on the control panel).
When using wireless mice, consider that the weight of two AA batteries within the mouse can considerably affect the weight of the mouse being moved.
Consider setting up single click rather than double clicking for each icon (see Folder Options on the control panel or on in Tools on a yellow folder).
There are many alternative mouse/input device options – consider the pros and cons of alternatives, as sometimes they can resolve one issue but may create another. If you have difficulties and you are still getting pain using your mouse, you may require an prevention assessment for minor/occasional symptoms, see DSE Workstation Risk Assessment or if you have ongoing health needs, see Ergonomic Workstation Assessment.
If using a mouse/alternative mouse/input device/trackball at all is problematic, there are other technology alternatives. Consider obtaining technical equipment advice (eg voice activated software) as part of an Ergonomic Workstation Assessment.Tell us your circumstances and we can advise what assessment will be needed.
DISCLAIMER: THIS WEBSITE DOES NOT PROVIDE MEDICAL ADVICE
The information, including but not limited to, text, graphics, images and other material contained on this website are for informational purposes only and is not to be used or relied on for any diagnostic or treatment purposes. The purpose of this website is to promote broad consumer understanding and knowledge of various health topics. This information is not intended to be patient education, does not create any patient-physician relationship, and it is not intended to be a substitute for professional medical advice, diagnosis or treatment. Always seek the advice of your physician or other qualified health care provider with any questions you may have regarding a medical condition or treatment and before undertaking a new health care regime, and never disregard professional medical advice or delay in seeking it because of something you have read on this website.
Healthywork Ltd does not recommend or endorse any specific tests, physicians, products, procedures, opinions or other information that may be mentioned on this website. Reliance on any information appearing on this website is solely at your own risk.
Arm pain when using a mouse: 12 Top Tips