Are you getting pain or discomfort using your keyboard?
Pain using the mouse can also occu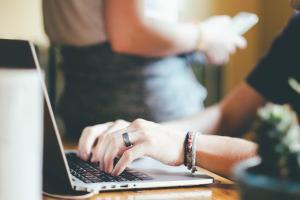 r and the sitting posture can also affect comfort. Review the following keyboard tips to see if you can resolve any issues you are experiencing.
Ensure your keyboard cable is loose and not restricting ease of positioning the keyboard close to you.
Ensure the surface on which the keyboard is used is horizontal and that the keyboard feet are available should you wish to use them.
Ensure the keys are all easily readable and fully functioning.
Ensure the keyboard is positioned at the same height as your forearm, i.e. if you have raised your chair, to suit your keyboard height, (see Sitting on an Office Chair: 7 top tips). Ensure that the keyboard is close and central to you, so that your elbows remain under your shoulder during use (sometimes a mini keyboard size is a consideration and some prefer the soft touch type of keys as more comfortable to depress).
A wrist rest should only be used during breaks from keyboarding! Be aware that the wrist rest is not restricting access to the keyboard. Your arms and particularly your wrists should be free to move and be unrestricted during use.
Try to not hit the keys too hard, review your keyboarding technique!
Consider using keyboard shortcuts to ease the repetition of keyboarding tasks.
There are many alternative keyboard options – consider the pros and cons of alternatives, as sometimes they can resolve one issue and may create another. If you have difficulties and are still getting pain using your keyboard, you may require an prevention assessment for minor/occasional symptoms, see DSE Workstation Risk Assessment or if you have ongoing health needs, see Ergonomic Workstation Assessment.
If using a keyboard at all is problematic, there are other technology alternatives. Consider obtaining technical equipment advice (eg voice activated software) as part of an Ergonomic Workstation Assessment. Tell us your circumstances and we can advise what assessments will be needed.
DISCLAIMER: THIS WEBSITE DOES NOT PROVIDE MEDICAL ADVICE
The information, including but not limited to, text, graphics, images and other material contained on this website are for informational purposes only and is not to be used or relied on for any diagnostic or treatment purposes. The purpose of this website is to promote broad consumer understanding and knowledge of various health topics. This information is not intended to be patient education, does not create any patient-physician relationship, and it is not intended to be a substitute for professional medical advice, diagnosis or treatment. Always seek the advice of your physician or other qualified health care provider with any questions you may have regarding a medical condition or treatment and before undertaking a new health care regime, and never disregard professional medical advice or delay in seeking it because of something you have read on this website.
Healthywork Ltd does not recommend or endorse any specific tests, physicians, products, procedures, opinions or other information that may be mentioned on this website. Reliance on any information appearing on this website is solely at your own risk.
Hand or arm pain when using a keyboard: 9 Top Tips