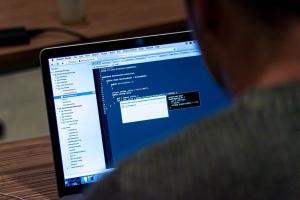 Are you getting pain or discomfort viewing your monitor?
Also review your sitting posture and the position of the keyboard and mouse and paperwork as these can also contribute.
Review the following monitor screen tips to see if you can resolve any issues you are experiencing.
Ensure your monitor is positioned central to your sitting position (centre of the screen in your midline) so that you are sitting symmetrically.
If you have more than one screen in use (equally in use), at the same time, consider placing both screens close together, so that their near edges touch (i.e. in your midline). Ensure they are both raised correctly, see below. If the screens are linked to different hard drive systems, it is possible to use cables so that one keyboard and mouse can operate two systems, thus easing position of fewer keyboards and mice/input devices, but this will need to be assessed to suit the circumstances of the usage required.
Once sitting at the correct height, consider raising the screen so that the top of the viewable screen is horizontal with your eye line. If you wear glasses, you may not need to raise the screen (depending on the lenses in use, eg bifocal glasses may require the user to look through the lower part of the glasses, so they may need the screen to be lower than usually recommended).
Ensure the screen distance from the face is suitable so that the items on the screen can be viewed comfortably, whilst sitting upright or slightly reclined in the chair. Avoid bending forwards towards the screen to see the items. If this is the case, consider the options with glasses etc, and possibly moving the screen closer meanwhile, to ease this posture.
Consider if there is any glare/reflection on the screen from lights and/or windows. This is less of an issue now than it was in the past, as newer/flat screens are generally less affected by these issues.
Consider using options such as large fonts, different colours on the computer system to ease vision difficulties, you may require a Visual Assessment, which can be included within an Ergonomic Workstation Assessment.
If using a screen at all is problematic, there are other technology alternatives. Tell us your circumstances and we can advise what assessment will be needed.
DISCLAIMER: THIS WEBSITE DOES NOT PROVIDE MEDICAL ADVICE
The information, including but not limited to, text, graphics, images and other material contained on this website are for informational purposes only and is not to be used or relied on for any diagnostic or treatment purposes. The purpose of this website is to promote broad consumer understanding and knowledge of various health topics. This information is not intended to be patient education, does not create any patient-physician relationship, and it is not intended to be a substitute for professional medical advice, diagnosis or treatment. Always seek the advice of your physician or other qualified health care provider with any questions you may have regarding a medical condition or treatment and before undertaking a new health care regime, and never disregard professional medical advice or delay in seeking it because of something you have read on this website.
Healthywork Ltd does not recommend or endorse any specific tests, physicians, products, procedures, opinions or other information that may be mentioned on this website. Reliance on any information appearing on this website is solely at your own risk.
Neck pain looking at a Monitor screen: 7 Top Tips