Are you getting pain when positioning paperwork tasks with computer tasks?
Consider other factors such as your sitting posture, keyboard position, mouse use and monitor location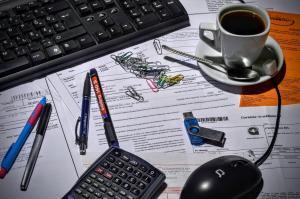 which may also be contributing.
Review the following paperwork tips to see if you can resolve any issues you are experiencing.
Ensure your chair height is set to suit your build and is set correctly to the desk surface height. This sitting height, achieving a horizontal forearm posture is suitable for keyboard and mouse tasks.
Paperwork tasks need to be positioned closer to the eye, and thus should be approx 5-10cm above the keyboarding height. Therefore if paperwork is to be conducted on the desk surface and no keyboarding is required for some time, the keyboard can be removed and consider lowering the chair slightly, during paperwork tasks. Consider angling paperwork towards you, to avoid bending over the desk and to allow a better sitting posture.
Copy stands are available to position paperwork nearby at more suitable angles, if reading only is required of light weight paperwork during keyboarding.
If simultaneous paperwork and keyboarding tasks need to be conducted, where handwriting and heavier paperwork items are required (notebooks, folders, books) the keyboard and the paperwork both need to be positioned close to you and need to be positioned at different heights. Equipment is available to achieve this need, so that the keyboard remains close on the desk surface, and the paperwork can be placed on a firm sliding surface which can be pulled close above the keyboard when writing has to be conducted.
Avoid twisting to the side in order to reach for paperwork or to perform paperwork tasks.
If handwriting is difficult due to grip or dexterity issues, consider trialing inky, gel type pens with different grip sizes as these can be easier to use and less fatiguing than using a biro/ball point (ball bearing) type pens. If you have difficulties, getting pain or discomfort, you may require an prevention assessment for minor/occasional symptoms, see DSE Workstation Risk Assessment or if you have ongoing health needs, see Ergonomic Workstation Assessment and technology solutions may be recommended.
DISCLAIMER: THIS WEBSITE DOES NOT PROVIDE MEDICAL ADVICE
The information, including but not limited to, text, graphics, images and other material contained on this website are for informational purposes only and is not to be used or relied on for any diagnostic or treatment purposes. The purpose of this website is to promote broad consumer understanding and knowledge of various health topics. This information is not intended to be patient education, does not create any patient-physician relationship, and it is not intended to be a substitute for professional medical advice, diagnosis or treatment. Always seek the advice of your physician or other qualified health care provider with any questions you may have regarding a medical condition or treatment and before undertaking a new health care regime, and never disregard professional medical advice or delay in seeking it because of something you have read on this website.
Healthywork Ltd does not recommend or endorse any specific tests, physicians, products, procedures, opinions or other information that may be mentioned on this website. Reliance on any information appearing on this website is solely at your own risk.
Pain during workstation paperwork tasks: 6 Top Tips